Heaven in Her Arms - Paraselene
Best Tracks: "Butterfly in Right Helicoid," "Veritas"
Heaven in Her Arms brings a heavy and epic screamo album. The Converge influence runs strong, with songs the longest songs on the album reminding one of Converge's greatest song, "Jane Doe." The reminder isn't a bad thing, as they take the influence and use it quite to their advantage.
(Original Grade: not reviewed)
Japandroids - No Singles
Best Tracks: "Sexual Aerosol," "Lucifer's Symphony," "Couture Suicide"
A compilation of the early EPs by Japandroids, it shows them in much rawer form. They still had amazing potential though and it's almost more enjoyable as you can hear them take risks. They're hungry here and it shows. You get the feeling they don't know or care whether this will appeal to anyone, they just want to kick ass.
(Original Grade: B+)
Just Like Vinyl - Just Like Vinyl
Best Tracks: "The Circulatory System," "Death of the Sheep," "No Friend of Mine"
The Fall of Troy had gotten increasingly technical, pretentious, and undesirable to listen to. Shortly after the release of their fourth full-length album, the band called it quits and singer/guitarist/main songwriter Thomas Erak set out on his own with a new band.
Just Like Vinyl
is getting mixed reviews, but it's the best thing Erak has done in years, in my opinion. The bloated wankfests of the last Fall of Troy releases and uncomfortable indulgences are stripped away, giving
Just Like Vinyl
the feel of the classic version of Fall of Troy on their self-titled release and the subsequent Doppelganger. The songs are still technical, but far more accessible and they have great hooks to draw the listener in. Breaking up the Fall of Troy and forming this band turned out to be the best move Erak could possibly make.
(Original Grade: B)
Ted Leo and the Pharmacists - The Brutalist Bricks
Best Tracks: "Mourning in America," "Bottled in Cork," "Bartolomeo and the Buzzing of Bees," "Last Days"
Ted Leo's latest release trades in unpretentious rock music, leaning heavily on classic punk and classic rock. It's heavier and harder than his last one, 2007's
Living with the Living
. That album was overly ambitious, but
The Brutalist Brick
s is stripped down the basics of his sound. It's purely the essence of Ted Leo's music and it's one of his greatest albums yet for it.
(Original Grade: A+)
LCD Soundsystem - This is Happening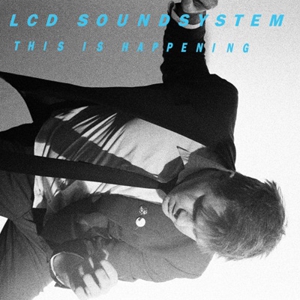 Best Tracks: "Dance Yrself Clean," "You Wanted a Hit," "Pow Pow"
Another epic indie dance pop album from the master of it, LCD Soundsystem. While
This is Happening
isn't James Murphy's greatest work, it may have the greatest depth of any of his albums yet and it preserves the catchy intelligent danceability of previous releases.
(Original Grade: A)
listenlisten - "dog"
Best Tracks: "Ears Are Hearing," "I Will Be Mean," "The Time We Almost Died"
The best work yet from listenlisten, it strips their sound down a little bit and is a great country folk album. The re-recordings of previous songs drag it down a bit, as they aren't quite as strong as the original recordings, having worse production, but the album as a whole is an excellent slice of acoustic music.
(Original Grade: B)
Lizards Have Personalities - Snow of Kilimanjaro
Best Tracks: "In the Wake of a Dying Kite," "Upon a Scarlet Sunset," "For Once, Then, Something"
The latest EP from Lizards Have Personalities removes their second vocalist and goes harder and heavier than their first one. Their sound just keeps getting better and this is easily one of the best screamo releases this year.
(Original Grade: B+)
Make Do and Mend - End Measured Mile
Best Tracks: "Ghostal," "Firewater"
Make Do and Mend's brand of post-hardcore is refreshing to hear, a throwback to older bands that played that style. They're not too heavy, but not too light. Their screamer is the old school punk style of screamer, yelling his ass off but clearly and with a little bit of melody to it. It also features a fantastic guest appearance from La Dispute's Jordan Dreyer.
(Original Grade: not reviewed)
Merchant Ships - For Cameron
Best Tracks: "Things Left in Last Year," "Sleep Patterns"
Just before breaking up, Merchant Ships put out their best and deepest EP yet. "Sleep Patterns" is their best song, a nearly acoustic spoken word track that has possibly the most depressing lyrics of all time. The rest of the EP rocks hard, but has superior and tighter songwriting than previous EPs. It's a shame they won't be refining their sound even more.
(Original Grade: A)
Janelle Monae - The ArchAndroid
Best Tracks: "Cold War," "Tightrope," "Come Alive (The War of the Roses)"
Janelle Monae's wonderful debut is a mix of about a dozen different styles and the continuation of the perfection of pop music by OutKast. It's only right that she was discovered by OutKast's Big Boi because her brand of music is a direct sequel to their last release, encompassing just as many styles and doing them just as well as OutKast did on
Speakerboxxx/The Love Below
. She's one of the few promising new artists to come out recently.
The ArchAndroid
isn't perfect, it runs on a little bit too long, but it is one of the greatest pop albums in years and Monae's voice just soars. An excellent new talent. I'm going to admit a mistake here, I should have given this album an A upon release. My bad.
(Original Grade: B)